Our conferences
FMS 2012 Conference, 15th and 16th June 2012
'FMS Leading the Way'
Wyboston Lakes Executive Centre, Great North Road, Wyboston, Bedfordshire MK44 3AL
Tel: +44 (0) 333 7007 667
www.wybostonlakes.co.uk/conference-centre.aspx
The Federation of Music Services is determined to support Music Services continue to deliver the best music education for all children and young people. At a time of great change in music education (and great economic challenge) Music Services need to lead the way.
I am delighted to announce the programme for the 2012 FMS Annual Conference 'FMS Leading the Way', an exciting conference for an exciting year in music education. In England, Music Services, and their partners, are working tirelessly to ensure a smooth transition for the September launch of the 122 new 'Music Education Hubs' recently announced by Arts Council England. These hubs will provide instrumental lessons, bands, choirs, orchestras, and other music-making opportunities in and out of school for all children in their local area. Basically they will bring to life the Government's 'National Plan for Music Education'. FMS is pleased that the leadership skills of Music Services have been so clearly recognised. The new hubs will build on the work of Music Services, which have been providing children with these kinds of opportunities since 1935. In these changing times for music education we welcome the clear definition of the role of music education hubs in England, we also welcome the closer working with the cultural sector which the involvement of the Arts Council will bring.
However, there are two real challenges ahead:
Significantly reduced funding will lead to significantly fewer opportunities for young musicians unless we can mitigate this by using funding more effectively;
The Ofsted report has laid down a challenge to the sector which we need to address.
Music Services need to lead the way through these challenges this is a conference about celebrating, and enhancing, the leadership skills of all Music Services (not just those in England). Effective leadership requires access to continuing professional development opportunities via targeted information, training and the chance to share experiences with other leaders. At this strategic annual conference FMS wants to ensure that delegates have access to a range of high quality speakers and professional expertise and we have taken care to choose the most relevant and skilled conference contributors.

The Conference features the 3 key leadership strands of:
Leadership of High Quality Teaching and Learning;
Business and Resource Leadership;
Partnership Leadership and Relationship Management.
Content will be delivered by a mixture of keynote speeches, practical speeches, workshops, master classes and discussion forums. We also have presentations on both Friday and Saturday showcasing innovative and exemplar music education partnership projects.
We are pleased to confirm that the workshops and master classes have been sponsored by ABRSM.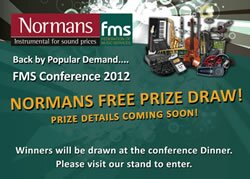 A unique feature of the FMS conference is access to the Members Voice, an unparalleled music education resource. Much wisdom, expertise and vision can be shared amongst colleagues via a number of conference sessions. On Friday some workshop sessions will be led by Members as will a key presentation and on Saturday the discussion forums will be driven by the Members. In addition there will be plenty of time to engage in discussions with colleagues during the conference, including at our Friday evening Drinks Reception sponsored by Paritor.
During the conference delegates will have the opportunity to experience musical performances from young musicians supported by Music Services in the region. We are also pleased to announce that once again Normans Musical Instruments are kindly sponsoring a prize draw. This year the conference has an even bigger Trade Exhibition area where Conference Delegates can access information from a wide range of relevant exhibitors.
Programme Outline
On Friday
The conference begins with an inspirational keynote speech from Leading Conductor Charles Hazlewood. His control of the orchestral world translates effortlessly into the business world bringing a fresh perspective to leadership, creativity, coaching and teamwork, viewed from his own unique insight into the harmonisation of many elements into one whole.
This is followed by vital and informative speeches in:
Digital Planning and Delivery, by Cliff Manning from Radiowaves, the experts in digital music educational practice and resources and winners of ICT Company of the Year at the 2012 BETT Awards in London and creators of NuMu, featured in the National Plan for Music Education and highlighted as exemplary practice by the DfE;
And - Leadership in Business Planning and Fundraising - by Michelle Wright, Co-Founder of Cause 4, the experts in development and fundraising across the community, arts, sports and education sectors; Michelle Wright is one of the Future 100 Young Social Entrepreneurs of the Year.
There is a chance to hear about the Sparks Project, a key music education project, with children and young people at the core, delivered by partners including Music Services from across the West Midlands and the City of Birmingham Symphony Orchestra.
On Friday the programme includes Workshops (practical and experiential guidance on a range of subjects) and Master Classes (expert advice and guidance on topics from subject specialists). Topics include:
change management;
trust status;
contracts and service level agreements;
enhancing your personal leadership skills;
identifying progression routes;
digitally energising your hub.
On Saturday
The programme starts with a keynote speech on 'Leading Your Team Through Change' from leadership expert Andy Hind. Andy supports vast numbers of local authorities, educational networks and schools across England and Wales and is passionate about leadership and learning in education.
Mark Phillips, HMI Inspector for Music, provides the conference with a vital key update for all music educators from Ofsted.
Music education champion Marc Jaffrey delivers essential advice on presenting the vision of your hub. Marc has 25 years' experience as a creative leader of high-impact campaigns and projects, recently championing the Music Manifesto, the most successful arts education campaign in UK history.
Nii Sackey, director of Bigga Fish (dedicated to the education of 13-21 year olds through music and its related industries) will provide a dynamic presentation on Urban Classics. A meeting of musical cultures that bring together some of the biggest names in UK black music with the BBC Concert Orchestra in ground-breaking live events.
Saturday's programme also includes a choice of Discussion Forums where delegates have a chance to contribute to key music education debates and discussions. These include:
a chance to debate Richard Hallam's (National Music Education Grant Director) assertion that '2013 will be the most important year in music education';
Followed by
a discussion Chaired by Lincoln Abbotts (ABRSM's Teaching and Learning Development Director) started by Graeme Smith (Head of Croydon Music and Arts Service) and James Garnett (Chair of NAME) and Nigel Taylor (Head of Staffordshire Performing Arts) on key elements of music education in and out of the curriculum;
Closing with
a chance to discuss the proposal to create a new national music education organisation.
I hope you agree that this is a valuable and exciting conference programme and I look forward to seeing you at the conference on the 15th and 16th of June 2012.
Virginia Haworth-Galt
Chief Executive of FMS
Programme Timings - Friday
MUSICAL PERFORMANCE
Miss Murray's Marvels have existed since October 2011. The choir is made up of singers from the Bushmead, Winhills and St. Mary's school choirs. Recent performances have included the Young Voices concert at the O2 Arena and members of the Bushmead choir also performed on stage with The Drifters at the Bedford Corn Exchange. The group is led by Cambridgeshire Music Teacher Alex Murray

10 am

Welcoming address
Virginia Haworth-Galt, Chief Executive, Federation of Music Services

10.25am

Keynote Speech
Charles Hazlewood

11.25am

Tea break

11.50am

Practical Speech - Digital Planning and Delivery
Cliff Manning, Communications Director, Radiowaves

12.25

Workshops and Master Classes – Sponsored by ABRSM

Workshop

1 Becoming a Trust
Peter Dunkley, CEO, Northamptonshire Music and Performing Arts Trust

Workshop

2 Digitally Energising Your Hub
Led by Mark Burke, Digital Learning Partnerships Director, Charanga

Workshop

3 Progression Pathways
Led by Ben Sandbrook, music education and creative learning consultant

Master Class

1 A Step by Step Guide to Setting up an Independent Music Trust and Transferring Out
Led by Bates Wells & Braithwaite

Master Class

2 Service Level Agreements and Contracts
Led by Bates Wells & Braithwaite

Master Class

3 Enhancing your Personal Leadership Skills
Led by Lincoln Abbotts, Teaching & Learning Development Director ABRSM

Master Class

4 Change Management
Led by Tony Nelson from Brqthru

1.25 pm

lunch

2.35 pm

Presentation - 'The Sparks Project' - Partnership Music Education Project
West Midlands Music Services

3 pm

Practical Speech -Business Planning 'Making your Business Plan Work'
Michelle Wright, Co-founder, Cause 4

3.55 pm

Tea break

4.25 pm

Workshops and Master classes (as above) Sponsored by ABRSM

5.25pm

end

7 pm

Drinks Reception – sponsored by Paritor
During the Reception, MusicCB2 (part of CB-Brass), directed by David Southern, will entertain delegates

8pm

Dinner – prize draw by Normans Musical Instruments
Programme Timings – Saturday
10am

Keynote address - 'Leading your Team Through Change'
Andy Hind
Sponsored by Dawsons

10.45 am

Ofsted Update
Mark Phillips, HMI for Music,

11.15 am

Tea break

11.45am

Moving Forward Music Education - Forum Discussions and Debates

Opening provocation by Richard Hallam, National Music Education Grant Director
'2013 – the most important year for music education?'
main auditorium

Facilitated Break Out discussion of theme
break out rooms

Chaired Discussion by Lincoln Abbotts (Teaching and Learning Development Director, ABRSM) discussion 'Music education in and out of the classroom' started by Graeme Smith (FMS), James Garnett (Chair of NAME) and Nigel Taylor(FMS) then opened to the floor
Main auditorium

1 pm

lunch

2.10pm

Practical Speech – Leadership in Marketing, 'Sharing the Vision of Your Hub'
Marc Jaffrey , Think Again Media

2.40pm

Presentation – Urban Classics - Partnership Music Education Project
Bigga Fish and BBC Concert Orchestra

3.20pm
Discussion - Proposal for a new music education organisation
Conference debate open to the floor

3.50 pm

(In coming) Chair's Closing Address
Nigel Taylor, (In Coming) Chair, Federation of Music Services

4pm

Tea and Departure
interested in joining the FMS?